t: +44 (0)1608 810180 e: robstepney@outlook.com
2 Walcot Farm • Charlbury • OX7 3HJ • UK
Margaret Drabble called the revised edition of John Cowper Powys' grand historical novel Owen Glendower "a heroic act of publishing".
I had become determined to bring Owen Glendower back into the world of available books. It also seemed fated.
Staying for a few weeks in Dolwyddelan, and with the page proofs of the new edition in hand, I asked in the village if there might be someone who could advise on the Welsh phrases used in the novel, particularly those taken from the collection of myths in the Mabinogion.
I was directed to a house on the hillside. A man answered the door. Somewhat apologetically, I explained my interest in Cowper Powys. Did he by any chance know of the author?
"Know John Cowper?" he said. "He was our next door neighbour in Blaenau Ffestiniog". I was invited in. When it came to checking passages from the Mabinogion, my host pulled a book from the shelf. It was not just any of the thousands published: it was Cowper Powys' own copy.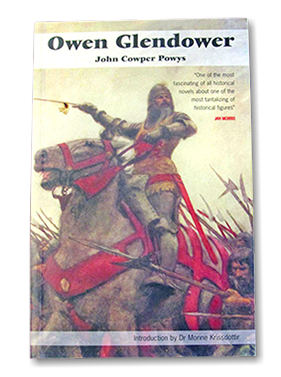 The Walcot
edition (2002) was subsequently sold to Overlook Press, New York, and remains in print with Gerald Duckworth & Co
Website by Adrian Lancini Designs